MnDOT Library Return on Investment (ROI) Study
MnDOT Library conducted a valuation/ROI study in 2013. Final materials are available here.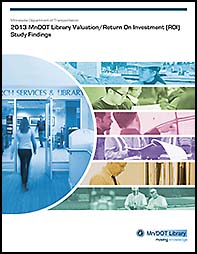 Report of Study Findings (PDF 461.86 KB, 5 pp.)
Printable Version (PDF 474.07 KB, 8 pp.)
This study was recognized with the 2014 Innovation Award from the Special Libraries Association-Transportation Division.
Please contact Sheila Hatchell, Library Director, with any questions or comments:
651-366-3733
Documents and Databases
Transportation Resources
Transportation Library Resources
Contact Us
MnDOT Library
Mail Stop 155
395 John Ireland Blvd.
St. Paul, MN 55155
Tel: 651-366-3791
Fax: 651-366-3789
library.dot@state.mn.us