Hennepin County - I-35W northbound entrance ramp from 4th Street South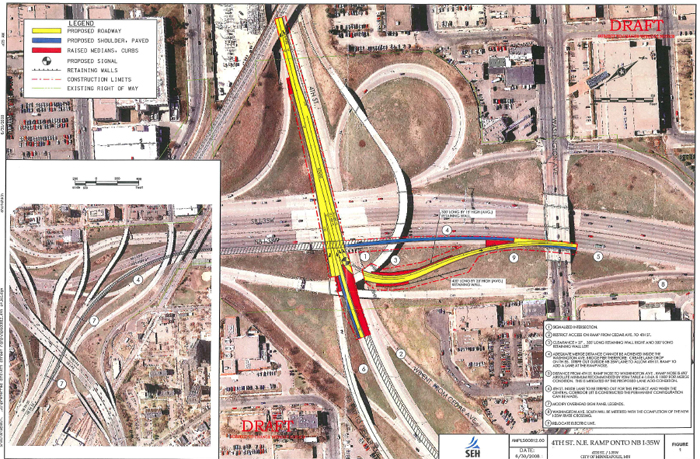 Description
This TED project is located to the east of downtown Minneapolis in the Cedar/Riverside neighborhood at I-35W and 4th Street South, and it will provide for a new entrance ramp to I-35W northbound from 4th St S as well as an auxiliary lane on northbound I-35W from University Ave S.E. to the Stinson Blvd NE exit. In addition, the construction of these elements also includes retaining walls, signals, and lighting.
Transportation impacts
This project is needed to maintain and improve traffic flow on the roadway network serving trips from downtown Minneapolis to the northern Twin Cities Metropolitan Area. Before the TED project, the demand to use the Washington Avenue South interchange exceeded its capacity, as did the access northbound to I-35 from downtown Minneapolis. As a result, congestion routinely backed-up for several blocks and there was a deteriorating level of service for all trips through and across Washington Avenue South and from downtown Minneapolis to I-35W. This project was implemented to create safer and more efficient driving conditions for motorists in the downtown Minneapolis area.
Economic development impacts
The project supports a mixed use high density multimodal area, a hotbed of growth industries that employs well over 27,000 people in predominantly well-paying jobs. Furthermore, it has a number of high quality developable sites, including one that was being created to be the new home of the American Academy of Neurology (120 new jobs). This project will support and encourage private sector investment by providing better access to an area currently gridlocked for hours every day. All four maps (PDF)