Automated storm water sampling
Hwy 23, Spicer Project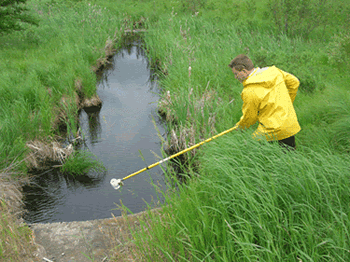 District 8 requested water monitoring for the TH 23 reconstruction project. Information was needed on the in-place point source discharge of the City of Spicer storm sewer. A site was installed at the end of Manitoba Street near Green Lake on August 16, 1999. Rain, level and flow data were monitored remotely for one year. Automatic samples were taken during rain and snowmelt events. The equipment was then moved in October 2000 to Lake Avenue off Salisbury Beach, which is not far from the original site. Rain, level and flow data are downloaded remotely to watch for sample events. Automatic samples from rain or snowmelt events are taken periodically for testing. Monitoring will end June 30th, 2011.
Flow monitoring
Hwy 36
Reconstruction of Trunk Highway 36 in North St. Paul included lowering of the grade of TH 36 under Margaret Street. As a result, some of the grade is below the water table. The required DNR water appropriation permit calls for a drainage blanket and flow monitoring. Metro Water Resources requested that OES design and maintain the flow monitoring indefinitely.
I-94 and Lowry Ave Flow Monitoring Project and Automated Sample Site
The 94 & Lowry Ave site, installed in 2009, monitors an area that contains just freeway drainage off I-94 in Minneapolis.  The goal is to confirm and gain better data on chloride and phosphorus levels in Mn/DOT only storm water.  Automated samples are taken during rain and snowmelt events throughout the year.  
Metro Tunnel Wash-Water Sampling
Requested by Water Resources, as part of the MS4 compliance, samples are taken at the Lowry Hill tunnel, Hiawatha tunnel, Portland tunnel, St. Paul/John Ireland Blvd. tunnel and the 94 West entrance tunnel to determine if the wash water is ok to sewer.
Continued monitoring 2-3 times a year
Riley Creek and Murray Ball Wetland Monitoring
Purpose is to monitor wetland mitigation sites for Hydrology in order to fulfill the Army Corps of Engineers monitoring requirements in the Special Conditions Sections of the Army Corps of Engineers Section 404 Permits
5 wells were installed at the reconstructed, Hwy 101 Riley Creek wetland & 2 wells installed at the Murray Ball wetland located in Independence
Solinst Barologgers are used to measure the water level in the wells