Americans with Disabilities Act (ADA)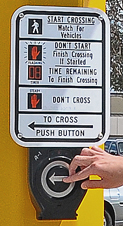 All MnDOT projects - both new construction and rehabilitation projects - must include evaluation to ensure compliance with the Americans with Disabilities Act. Components can include, but are not limited to adding curb cuts, truncated domes and accessible pedestrian signals. Read about MnDOT's transition plan to comply with the ADA.
Specifics for this project
Installing curb cuts and truncated domes at intersections as required.
A 12-foot-wide common use pedestrian/bike path in the north and south directions for the Mississippi River Trail and to the Dresbach Rest Area and Travel Information Center.
A pedestrian/bike bridge over southbound Highway 61 to eliminate crossings of high-speed roadways.
A new ADA accessible pedestrian loop at the Dresbach Rest Area.
Cyclists and pedestrians
Pedestrians and cyclists travelling on the Mississippi River Trail will be detoured along the Apple Blossom Trail during the construction of the new interchange. The detour is to remain in place until further notice and circumvents the current Mississippi River Trail corridor from LaCrescent to approximately 5.5 miles north of Dakota.