Sign up for project email updates
Updates
The Minnesota Department of Transportation invites the public to review the Environmental Assessment Worksheet (EAW) on proposed improvements to southbound Hwy 52 between Cannon Falls and Zumbrota.
The EAW outlines the project's need, purpose and anticipated social, economic and environmental impacts. It also identifies mitigation measures to lessen the impacts of the project.
You can find the EAW documents on the Documents page.
The 30-day public comment period begins Sept. 14, 2020, and ends Oct 14, 2020. Individuals or representatives of organizations are encouraged to submit written comments on the EAW through Oct. 14, 2020. They may be sent to MnDOT Project Manager Jai Kalsy at 2900 48th St. NW, Rochester, MN 55901 or jai.kalsy@state.mn.us
About this project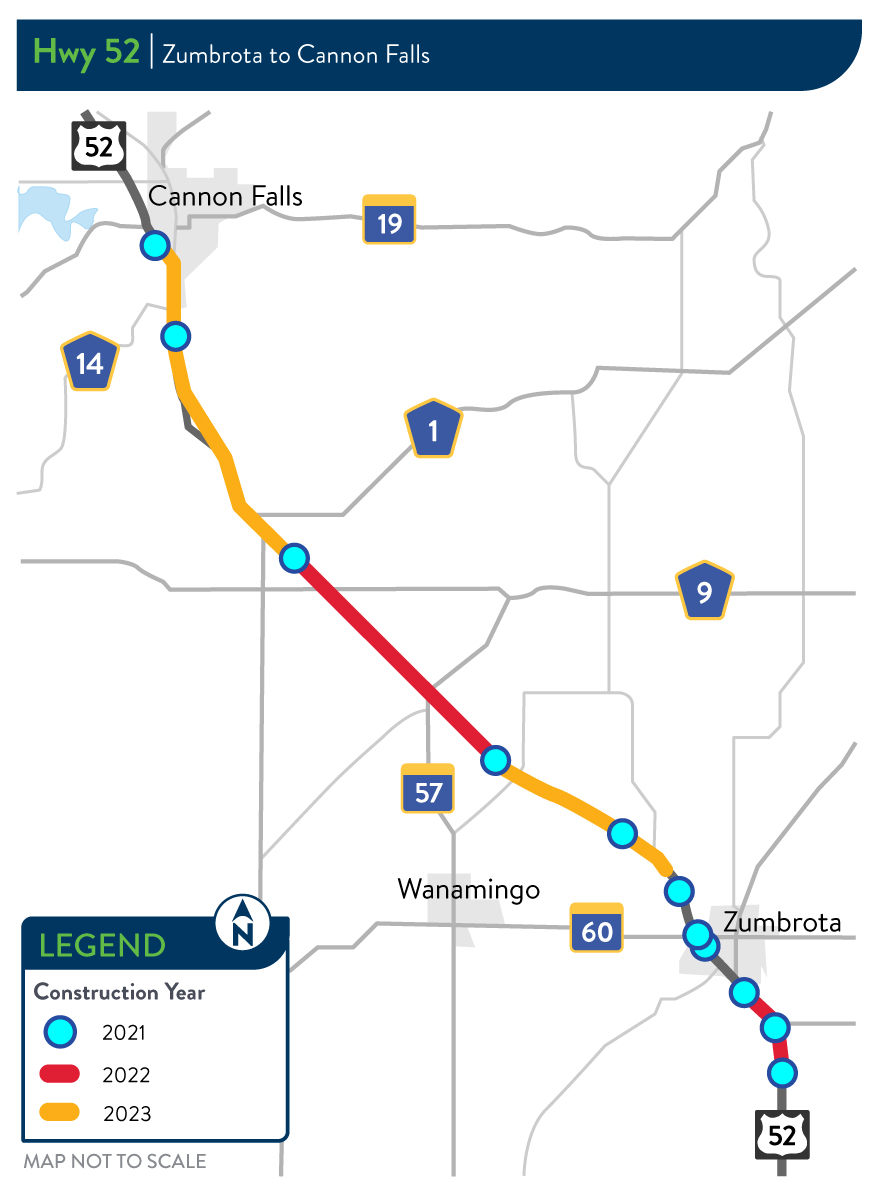 The Highway 52 corridor has been identified in several major transportation planning studies for improvements.  One of them, the Highway 52 Interregional Corridor Management Plan, prompted the development of a vision to transition the highway to a freeway design with no direct access.
In 2017, MnDOT received additional highway funds from the Minnesota Legislature.  Through public outreach, the public and those who have an interest or concern with our highways, were asked what their priorities would be if changes could be made.

From that input, MnDOT developed investment priorities and selected a section of southbound Highway 52 to receive improvements.

The project follows along Highway 52, from roughly 2 miles south of Cannon Falls and ends about 2 miles north of Zumbrota. 

MnDOT is proposing the bridges at Highway 52 and Highway 60, both east and west, in Zumbrota to be replaced. 

The junction of Highway 57/Goodhue County Road 8 and Highway 52 in Hader is being designated for an interchange.  During the design stage of the project, more safety and access management may be looked at and added.

Project schedule (tentative, subject to change)
Preliminary design - summer of 2018 through the Fall/Winter of 2019. Current stage.
Construction - fall of 2021
Completion - fall of 2023