Sign up for project email updates
About this project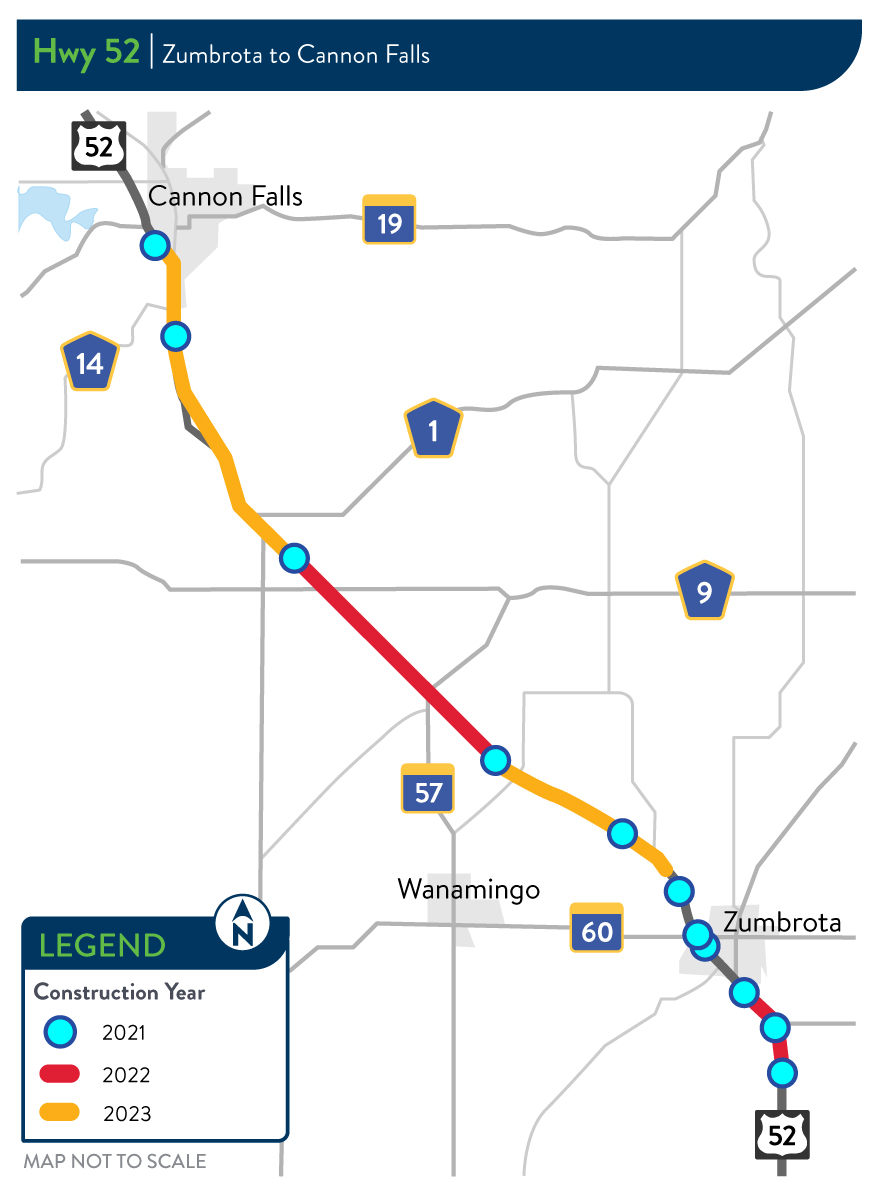 Updates
(Dec. update) Over the next few months, work will continue in preparation for the 2022 construction season including:
Goodhue County Road 14 grading and rock removal
Hader interchange grading
Clearing of some bushes and trees along Hwy 52 from Zumbrota to Cannon Falls – during this time there will be occasional short-term lane and shoulder closures
The tree cutting and brush removal will help clear areas for construction in 2022 as well as improve areas for drainage once the construction work is completed. Removal work needs to take place in winter months to ensure seasonal nesting patterns of bats are not disrupted.
Motorists may see work taking place off of the shoulder of the roads or MnDOT land adjacent to the road, and should be alert for equipment and workers.
(Nov. 8 update)
Intersection of 57th Ave. and Goodhue County 14 Blvd. was reopened on Friday, Nov. 5.
The Hwy 52 northbound bridge south of Zumbrota will open Tuesday, Nov. 9.
The Hwy 60 west bridge to Wanamingo is scheduled to open Nov. 11.
The connection of Goodhue County Road 14 to Goodhue County Road 24 work continues, which includes dirt removal and blasting of limestone rock as needed.
(Oct. 13 update) Residents south of Cannon Falls and west of Hwy 52 may hear rock removal work beginning Oct. 22 as crews prepare the land to build a road connecting Goodhue County Road 14 with Goodhue County Road 24. Work is expected to take about 3 weeks and will be performed during late-morning or early-afternoon hours.
During this time, people may hear noise similar to fireworks, feel potential vibrations and see dust. Monitoring procedures are in place for vibration levels, fly-rock control, dust reduction and other safety precautions as required. Adjacent residents are receiving additional advance notification.
Summary of Work
Construction starts July 14, 2021. This project will reconstruct the southbound Hwy 52 lanes beginning 2.2 miles south of Hwy 19 in Cannon Falls and proceeding south to 1.2 miles north of Goodhue County Road 7 with access control improvements.
The bridges at the junctions of Hwy 60 (west) and Hwy 60 (east) near Zumbrota will be replaced. As well as the replacement of the Hwy 52 southbound bridge and rehabilitating the Hwy 52 northbound bridge over the Zumbro River.
A new interchange will be constructed to replace the existing at-grade intersection at Hwy 52 and Hwy 57 / Goodhue County Road 8 (Hader Interchange).
Additional safety and access management measures will be implemented on the corridor including new frontage roads, reduced conflict intersections (RCIs) and construction of a new Goodhue County Road 14 connection on the north end of the project near Cannon Falls.
Project schedule
Some of the items may move in time periods or change as design work continues.
2021
Construct various Hwy 52 median crossover lanes to direct traffic off or onto the northbound or southbound lanes during future construction work.
Construct Hwy 60 West overpass bridge replacement at Zumbrota
Replace northbound Hwy 52 bridge at Hwy 60 east interchange south of Zumbrota
2022
Reconstruct of Hwy 52 southbound from (4,000 feet north) Goodhue County Road 9 to Goodhue County Road 50
Interchange construction at Hwy 57 / County Road 8 at Hwy 52
Replace southbound Hwy 52 bridge at Hwy 60 east interchange
Construct County Road 14 connection, frontage roads, and cul de sacs
2023
Replace southbound Hwy 52 bridge over Zumbro River
Reconstruct Hwy 52 southbound from County 24 Blvd. in Cannon Falls to 4,000 feet north of County 9 Blvd. 
Reconstruct Hwy 52 southbound from County Road 50 to 1.3 miles north of County Road 7
Construct frontage roads and cul de sacs
Construct noisewall along NB Hwy 52 south of Hwy 58 interchange at Zumbrota
Construction impacts
Road closure and detours required
Impacts to North Fork Zumbro River State Water Trail
Impacts to resident, field, and business access
Bridge removal
Vibration, noise and night work
Utility work