View detailed construction progress under the "Updates" tab

IMPORTANT NOTE ON AREA ROAD CLOSURES: In addition to the Highway 55 closure for this project, Highway 29 is closed between Alexandria and Glenwood for nine days, starting July 19. This is NOT part of the Glenwood overpass project, but is for a separate districtwide culvert replacement project. The detour follows Highway 27, Highway 114 and Highway 55. Access to residences/businesses is being maintained, but the roadway is impassable at the culvert site near Lake Reno. Thru-traffic must use the detour.
Project details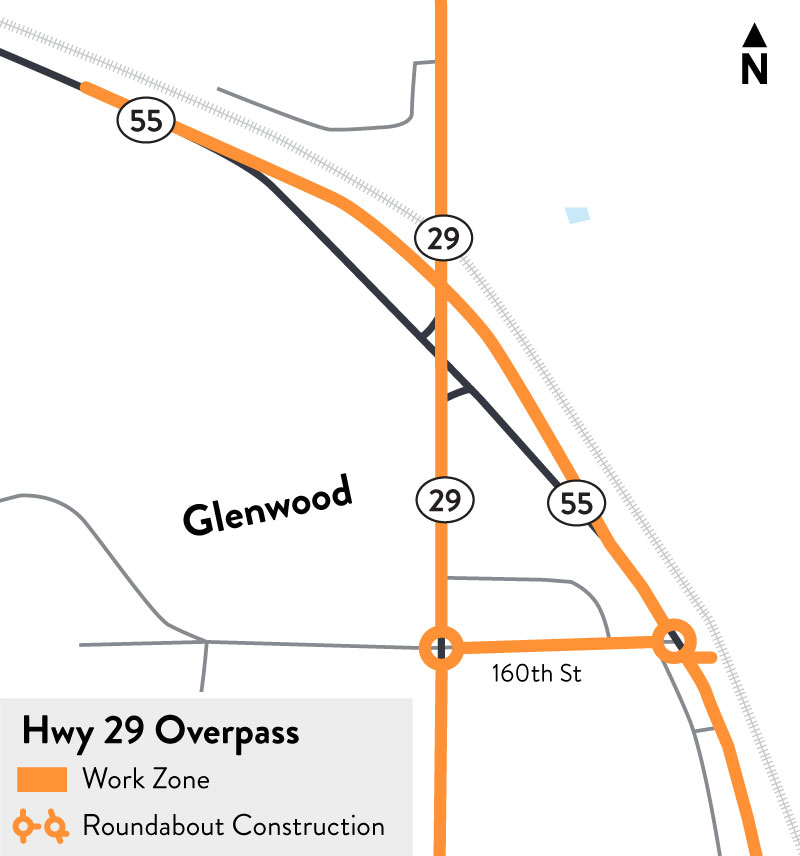 The Minnesota Department of Transportation and Pope County are partnering on a project to build an overpass at the junction of Hwy 29 and Hwy 55. The overpass will eliminate an "at grade" crossing with the CP Railway System.
The project will also eliminate the existing and undesirable skewed intersection of Hwy 29 and Hwy 55, moving the junction south to 160th Street and giving the intersection a perpendicular approach. Two roundabouts will be constructed as part of this project, one on Highway 29 and one on Highway 55 at the intersections with 160th Street. The entire project will take two construction seasons to complete.