Accessibility and State Highway Projects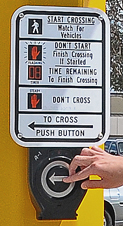 All MnDOT projects--both new construction and rehabilitation projects--must include evaluation to ensure compliance with the Americans with Disabilities Act.
Components can include, but are not limited to adding curb cuts, truncated domes and accessible pedestrian signals. Read about MnDOT's transition plan to comply with the ADA
Specifics for this Project
Upgrade to APS signals at intersections within the construction zone
Add truncated domes to sidewalks at intersections
Install a pedestrian crosswalk signal at 8th St. and 10th Ave. South near Concordia College
Click here for more information on APS signals.