Americans with Disabilities Act (ADA)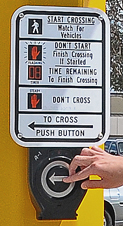 All MnDOT projects - both new construction and rehabilitation projects - must include evaluation to ensure compliance with the Americans with Disabilities Act. Components can include, but are not limited to adding curb cuts, truncated domes and accessible pedestrian signals. Read about MnDOT's transition plan to comply with the ADA.
Specifics for this project
All traffic signals and pedestrian accommodations within the project area (including curb ramps and sidewalks) will be designed to meet current "Public Rights-of Way Accessibility Guidelines."
Pedestrian walkway and ramp facilities will meet current ADA standards as well as using State standard APS (Accessible Pedestrian Systems) push buttons to enhance pedestrian safety and access to all traveled areas.
Countdown timer pedestrian signal indications and marked crosswalk areas will be utilized to provide pedestrians and bicyclists with additional information needed to safely access and cross each signalized location.