Pedestrian accessibility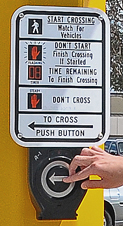 All MnDOT projects - both new construction and rehabilitation projects - must include evaluation to ensure compliance with the Americans with Disabilities Act. Components can include, but are not limited to adding curb cuts, truncated domes and accessible pedestrian signals. Read about MnDOT's transition plan to comply with the ADA.
Specifics for this project
Reconstruct or repair sidewalks, crosswalks, pedestrian ramp in Little Falls
Upgrade signal systems with pedestrian crossing components
Add or connect bike lanes
Navigating work areas
Expect pedestrian sidewalk and ramp closures along Hwy 27 in Little Falls until Oct. 1, 2019. Access will be maintained. Follow pedestrian detour signs and stay out of closed areas. Temporary sidewalk surfaces may be used.