Nisswa, Pequot Lakes, Jenkins
Get the best view of the project
Walk, run or bike the Paul Bunyan Trail!
Traveling Hwy 371 to Breezy Point or Pequot Lakes this weekend? Get some travel tips.
Traffic Impacts
Drivers—please don't gawk
The landscape is rapidly changing along Hwy 371 and CR 11, for your safety and ours, please don't suddenly slow down or stop to gawk when driving through the area.
Hwy 371 is open to traffic
Shoulder closures in Nisswa and Pequot Lakes
Temporary traffic signal at Hwy 371/Derksen Rd in Pequot Lakes
Be alert to moving equipment entering or exiting work areas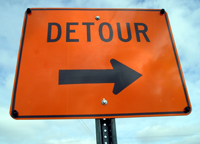 Access closures
Business accesses are open
State Trail users
Paul Bunyan trail is open. However, trail users should be alert to crews working in areas and side temporary reroutes along existing trail.

Building up the roadbed using wood chips.
Photo by Randy Shoen, Mathiowetz
Schedule
| | |
| --- | --- |
| Construct new roadway, interchange and trail | April 2016 - Fall 2016 |
| Reconstruct old roadway and connect with new roadway, complete trail connections | April 2017 - Fall 2017 |
*Information subject to change