169 Redefine
Elk River freeway
Redesign and reconstruct three miles of Highway 169 to a new freeway system through Elk River between Highway 101/10 and 197th Avenue, Sherburne County. Construction begins in 2022. View April 29, 2020 preliminary layout on the documents page.
Current
May 2020 - Crews work along Hwy 169 to bore soil samples for future freeway project. Motorists may encounter shoulder closures or see crews and equipment along the road. Sign-up for project email updates.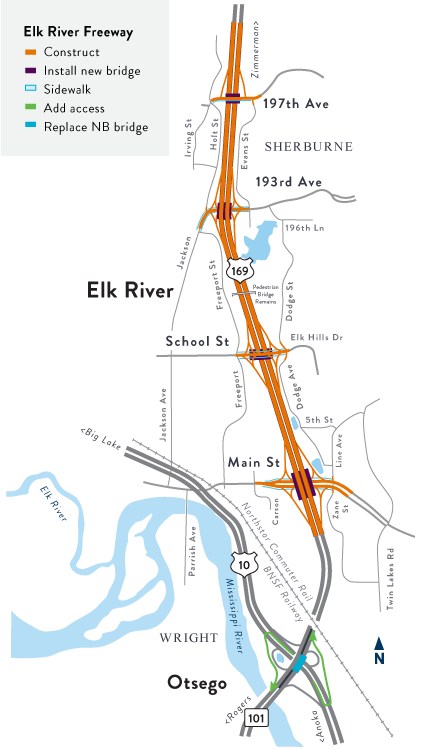 Summary of work
Convert to a freeway

Reconstruct all four-lanes of Hwy 169 and adjacent road connections
Construct four new interchanges:

Hwy 169 bridge over Main St.
School St./Elk Hills Dr. bridge over Hwy 169
Hwy 169 bridge over 193rd Ave.
197th Ave. over Hwy 169

Improve pedestrian accessibility along city streets
Upgrade underground infrastructure and utilities
Improve access at the Hwy 169/101/10 interchange
Replace the northbound Hwy 169/101 bridge over Hwy 10
Looking ahead
The '169 Redefine' project is in partnership with MnDOT, the City of Elk River and Sherburne County. In spring 2020, a construction management contractor and final design team will be hired to work together to determine the best, most cost-effective plans for executing the three-year construction project that will begin by fall 2022.
For more project resources and to view the preliminary layout, visit the documents page.
All information is subject to change.