Public involvement
Pre-construction meetings
The bid opening was April 20, 2018 and the low bidder for the project is Lunda Construction of Black River Falls, Wisconsin. The contract was awarded to them and the contract with them was approved June 1, 2018. The first pre-construction meeting with them was held June 6, 2018. For the week of June 11 they will be moving in some equipment and setting up some traffic control signs. The contractor plans to have a public information meeting the week of June 18 (they are working at finding a location for either June 18 or 19.) At the public information meeting they will explain their planned construction schedule. We will keep you informed of that public information meeting as soon as we hear the date/time/location that the contractor sets up.
Findings of Fact and Conclusions
The Findings of Fact and Conclusions document (PDF) for the Baudette Bridge document is now available.
Notice of Filing: Design and Construction Report (DCR)
The Detailed Design (final design) for the Recommended Plan is documented in the DCR that is now available for public review (PDF).
The DCR is available for public review from December 6, 2017 – January 12, 2018 at the following locations:
Rainy River Public Library
334 4th Street
Rainy River Ontario
Tuesday and Thursday: 2 PM to 7 PM
Wednesday, Friday and Saturday: 11 AM to 4 PM
Town of Rainy River
Clerk's Office
201 Atwood Avenue
Rainy River Ontario
Monday to Friday: 9 AM to 4:30 PM


Ontario Detail Design Public Meeting
The fifth open house and public hearing will be held on Oct. 4, 2017 from 4 p.m. to 7 p.m. at the Rainy River Recreation Centre, 219 Government Road, Rainy River, ON. The event will provide an opportunity for citizens to review the recommended plan, staging and traffic management plan, protection an mitigation measures, and answer any questions about the study.
Environmental Assessment/Environmental Assessment Worksheet
The EA/EAW documents the purpose and need of the project along with the anticipated social, economic, and environmental impacts, including Federal Section 106 and Section 4(f) impacts.
Copies of the EA will be available for review during the open house and public hearing, and are also available for public viewing during business hours at the following locations from February 6, 2017 through March 24, 2017:
Baudette Public Library, 110 1st Ave SW, Baudette, MN  56623
MnDOT District 2 Office, 3920 Highway 2 West, Bemidji, MN 56601
MnDOT Library, 395 John Ireland Boulevard, St. Paul, MN  55155
Environmental Conservation Library, Hennepin County Library, 300 Nicollet Mall, Minneapolis, MN  54401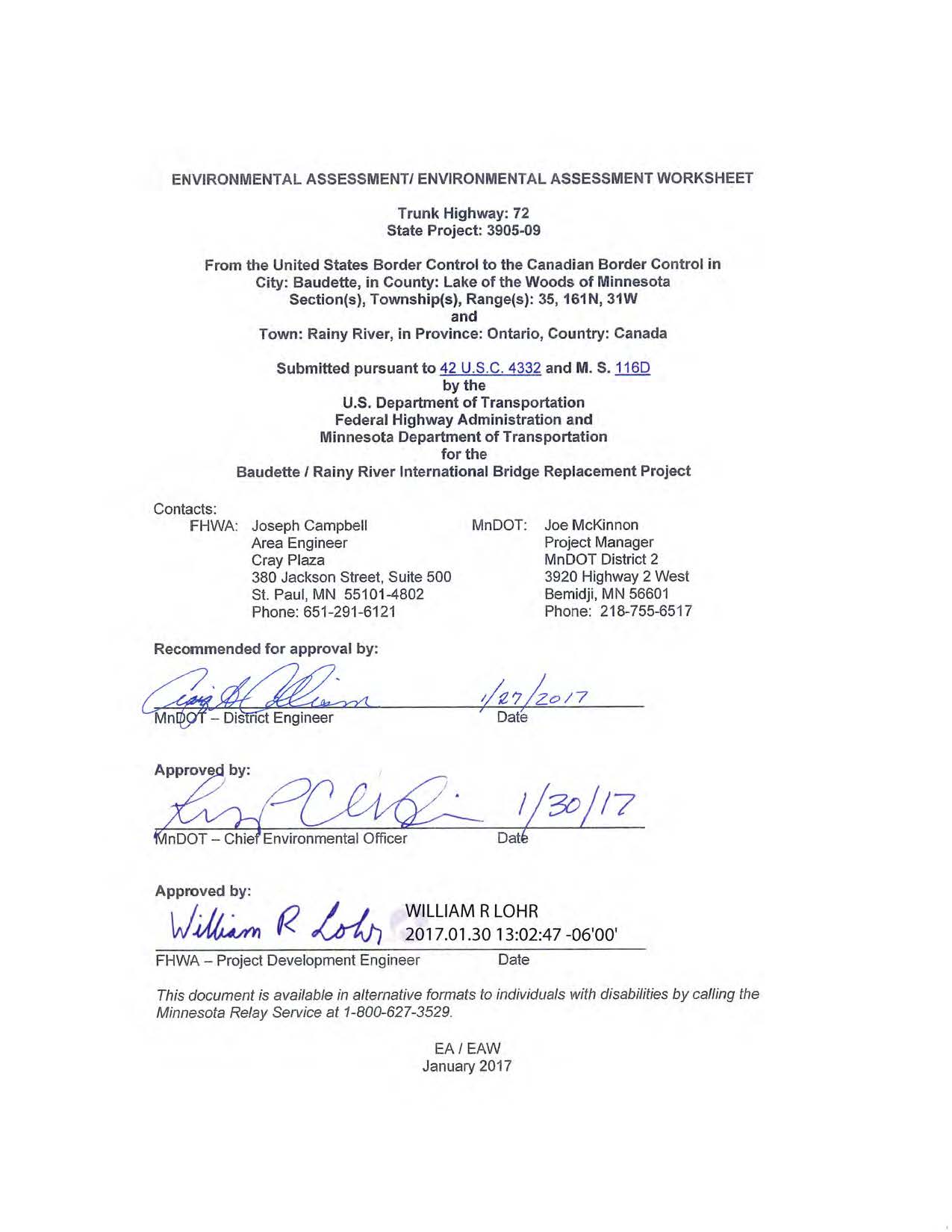 Transportation Environmental Study Report (TESR)
The TESR documents environmentally significant aspects of the planning, design, construction and operation of specific types of projects as defined by Canadian Provincial Transportation Facilities. This TESR fulfills the documentation requirements of the Class EA for Provincial Transportation Facilities (2000) for Group B projects.
Copies of the TESR will be available for review during the open house and public hearing, and are also available for public viewing during business hours at the following locations from February 6, 2017 through March 23, 2017:
Ministry of the Environment and Climate Change, Thunder Bay District Office, 435 James St S, Thunder Bay, ON
Town of Rainy River, Clerk's Office, 201 Atwood Ave, Rainy River, ON
Rainy River Public Library, 334 4th St, Rainy River, ON