The U.S. Bicycle Route System
The U.S. Bicycle Route System is an emerging network of numbered cross country bicycle routes developed to connect people to cities and places. The network will link urban, suburban and rural areas using a variety of bicycling facilities. The American Association of State Highway and Transportation Officials Special Committee on Route Numbering officially designates each numbered route in the USBRS. There are currently more than 11,000 miles of U.S. Bicycle Route in almost half the states.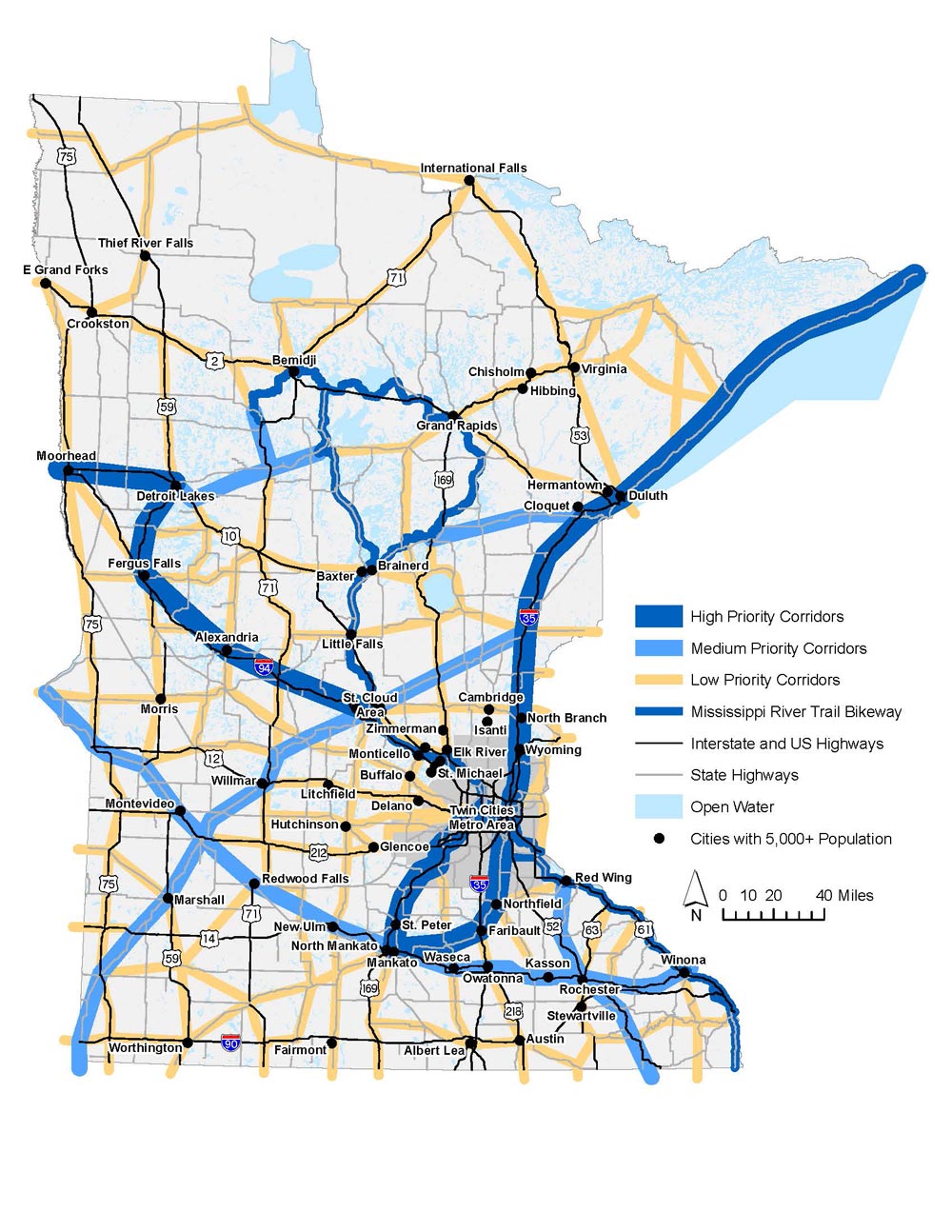 Minnesota's State Bikeway Network
Stakeholders who participated in MnDOT's 2013 Statewide Bicycle Planning Study identified connecting destinations as their most significant concern for statewide bicycle travel. Participants identified priority corridors to use for bicycle travel to and between Minnesota cities. The proposed routes were developed based on comments from a cross-section of people statewide and are illustrated in Minnesota's Statewide Bicycle System Plan (PDF) (see Figure 1, State Bikeway Network Priority Corridors; page 33). The high priority corridors are the first corridors in the developing State Bikeway Network that MnDOT will consider for infrastructure improvements and future state bikeway designation.
MnDOT has designated two U.S. bicycle routes:
USBR 41, the North Star Route in 2016
The routes combine existing roads and trails to create continuous bicycle routes. The routes will evolve to include additional miles of trail and improved on-road facilities (wider shoulders, etc.) as opportunities arise. MnDOT plans to develop a third U.S. bicycle route by 2020.
MnDOT is preparing a Bicycle Route Planning Guide, which will serve as a blueprint to develop and designate future long distance bicycle routes in Minnesota. The guide is being developed largely for MnDOT staff, but others, such as local route planning partners, may apply the guide to their projects and planning work to support and implement a connected statewide network.
Promoting bicycle routes
The Adventure Cycling Association actively promotes the USBRS. Their marketing efforts help increase awareness about travel by bicycle and support tourism. Like Adventure Cycling, MnDOT and many of the communities along the state bicycle routes recognize that a state bikeway creates economic development opportunities as a result of both long-distance travel and short-distance trips made in and around the communities near the route.
When MnDOT developed its first USBR, USBR 45, the Mississippi River Trail, we created the Mississippi River Trail Bikeway Marketing Toolbox (PDF), a guide to helping communities, businesses and others interested in promoting bicycling and bicycle travel to understand the types of bicyclists and appropriately target marketing efforts to them. The toolbox includes various topics, including marketing information, marketing strategies and identifies marketing partners.