Volunteers should plan ahead
Before heading out
Select a clear day to do the picking. Work only during daylight hours and during good weather. Do not work when roads are wet or when visibility is poor.
Picking may be restricted on or near holidays or other times when very heavy traffic occurs
Assign work teams and leaders before you reach the site
Distribute trash bags to each volunteer beforehand
Bring a first aid kit and a cell phone.
Identify the nearest hospital and know how to get there in an emergency. Make sure your tetanus shots are up to date.
Bring heavy work gloves, light-colored clothing, brightly covered cap and heavy leather shoes or work boots with good ankle support.
Put on sunscreen and insect or tick repellent. Or, wear a hat and long sleeves to avoid sunburn.
Volunteers must wear safety vests. Make sure you have enough vests for everyone.
Review safety precautions every time you go out and take them seriously
While you work
Always wear your safety vest. Motorists must be able to see you.
Use proper bags for picking up trash.
Work one side of the road at a time. Do not cross the road to get to your vehicle.
Face the traffic while you work.
Stay in a group and be constantly alert for approaching traffic
Use cell phones to communicate among work teams
All-terrain vehicles are allowed as long as they are used in accordance with existing laws
Bring along a supply of drinking water and take break.
Secure the bags by tying the ends. Place the bags near the shoulder, but not on the shoulder.
Do not crush collected trash to make more room in the bag; broken or jagged objects can cause injuries.
Schedule the pickups for MnDOT when the weather is good
Groups are encouraged to recycle materials for their own benefit
MnDOT's role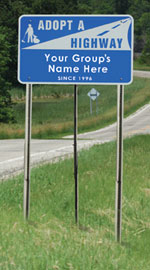 MnDOT still has a role in helping volunteers keep roadsides clean. MnDOT will:
Remove filled bags from the roadsides
Remove large, heavy or hazardous items.
Erect a 3' x 5' highway sign to recognize a group's commitment. The sign legend is the name of your group only, not its message. It is limited to two lines of 18 characters including spaces and punctuation.